Meet The Equity Bank Leadership Team
---
Brad Elliott
Chairman & CEO, Equity Bancshares, Inc.
Brad S. Elliott is our founder, Chairman and Chief Executive Officer. Before founding the Company, Mr. Elliott served as Director of Marketing at Koch Industries, Inc., a privately-held multinational corporation. Prior to joining Koch Industries, Inc., he served as a Regional President at Sunflower Bank, a community bank with locations throughout Kansas, Colorado and Missouri. Prior to joining Sunflower Bank, Mr. Elliott was employed in various capacities by Home State Bank and Trust for six years following graduation from McPherson College with a Bachelor of Science degree in Finance and Management. Mr. Elliott is also a graduate of the Stonier Graduate School of Banking. He has served on the board of directors for the Wichita Area Chamber of Commerce Board of Directors, the Wichita State University Shocker Athletic Scholarship Organization, PCS Advisory Board, Via Christi Health, and the Kansas Bankers Association. Mr. Elliott adds financial services experience, especially lending and asset liability management, to the board of directors, as well as a deep understanding of the Company's business and operations. Mr. Elliott also brings risk and operations management and strategic planning expertise to the board of directors, skills that are important as we continue to implement our business strategy and acquire and integrate growth opportunities.
Greg Kossover
EVP, Chief Operating Officer
Gregory H. Kossover has served as Executive Vice President of Equity Bank since October 2013, as Chief Financial Officer from 2013 to 2020 and COO beginning in July of 2020. Mr. Kossover has served as a member of our board of directors since December 2011. Prior to joining the Company, Mr. Kossover was President of Physicians Development Group, a builder and manager of senior living facilities in the Wichita, Kansas metropolitan area, from 2012 to 2013. From 2004 to 2011 he was Chief Executive Officer of Value Place, LLC, one of the largest economy extended-stay lodging franchises in the United States. Mr. Kossover previously served as Treasurer of Western Financial Corporation, a publicly held thrift holding company. Mr. Kossover graduated from Emporia State University with a Bachelor of Science degree in Accounting and has successfully completed the Uniform Certified Public Accountants exam. Mr. Kossover's leadership, banking, operational and financial experience provide important oversight of our financial reporting and enterprise and operational risk management to the board of directors.
Eric Newell
EVP, Chief Financial Officer
Eric Newell joined Equity Bank in 2020 after serving as Chief Financial Officer at United Bank, a $7.3 billion community bank headquartered in Hartford, Conn., through the completion of United's merger into People's United Financial, Inc. Mr. Newell was responsible for the oversight of financial and accounting management, internal and external financial reporting, interest rate risk management, liquidity management, and capital management. Mr. Newell received a B.S. in Business Administration with a concentration in Finance and Marketing from Northeastern University in Boston, MA, and is a chartered financial analyst.
Craig Anderson
President, Equity Bank
Craig Anderson joined Equity Bancshares, Inc. in 2018. Previously, Mr. Anderson served as President, Commercial Banking – Eastern Region for UMB beginning in 2017, overseeing commercial banking divisions in Missouri, Kansas, Nebraska, Oklahoma and Illinois. Anderson managed national specialty lending businesses and developed products and strategies for specialty agribusiness, health care, and aviation lines. Prior to this, he served as President, Commercial Banking, beginning in 2011 in Kansas City, Missouri and President, Regional Banking, in Denver, Colorado. Mr. Anderson also served as Chairman and CEO of UMB National Bank of America in Salina, Kansas from 2001 through 2009, operating out of Wichita. Anderson is an alumnus of the University of Colorado – Graduate School of Banking in Boulder, Colorado and a graduate of Southwestern College in Winfield, Kansas. He has been involved in numerous community involvement efforts, including the Greater Kansas City and Mile High United Way chapters, service on the executive committee of YPO Gold, and has served as a board member and held key leadership positions with Music Theater of Wichita, Junior Achievement of Wichita, and Arts Partners of Wichita.
Julie Huber
EVP, Strategic Initiatives
Julie A. Huber serves as Executive Vice President for Strategic Initiatives at Equity Bank. Ms. Huber joined Equity Bank in 2003 and has served in a variety of leadership roles over a period of twelve years, including overseeing our operations, human resources, compliance functions, and sales and training, and has managed the integration process for each community bank we have acquired. Ms. Huber served as President of Signature Bank for three years following our acquisition in 2009. Prior to joining the company, Ms. Huber most recently served as the executive of Sunflower Bank responsible for the retail, operational, compliance, and security functions. Ms. Huber graduated from McPherson College with a Bachelor of Science degree in Business Administration and History, received her MBA from Baker University in 2014, and is a graduate of the Stonier Graduate School of Banking and the Bank Leaders of Kansas. Ms. Huber currently serves as President of the Andover Advantage Foundation in Andover, Kansas and is a Business Plan Advisor with Youth Entrepreneurs.
Brett A. Reber
EVP, General Counsel
Brett A. Reber joined Equity Bank in October 2018 as General Counsel for Equity Bancshares, Inc. and Equity Bank. Prior to joining Equity, he served as Managing Member of the Wise & Reber, L.C., law firm in McPherson, Kansas. Brett has practiced corporate and business law for the past 30 years. Mr. Reber received his Bachelor's degree from the University of Kansas in 1983, and his law degree from the University of Tulsa, College of Law in 1986. He served as a law clerk to United State District Judge Thomas R. Brett in the Northern District of Oklahoma before beginning his law practice. He was admitted to practice in Oklahoma in 1986 and Kansas in 1987, and holds membership in the American, Kansas and Oklahoma Bar Associations. Reber is active in community affairs, and serves on various boards including the McPherson Industrial Development Company and the Julia J. Mingenback Foundation locally, the National Board of Directors of Pheasants Forever and Quail Forever and the corporate boards of Farmers Alliance Mutual Insurance Company and the Bradbury Company.
Mark Parman
EVP, Director of Metro Banking
Mark Parman is Senior Vice President and Market President of Kansas City. Parman joined Equity Bank as VP of Special Assets in 2012 and became market president of Kansas City in 2014. Parman also served as EVP for First Community Bank, CEO of Hillcrest Bank, and then Solutions Bank in Kansas.
Patrick Harbert
President, Community Markets
Patrick Harbert joined Equity Bank in August of 2003. Mr. Harbert holds a BA in Business with a minor in finance from Friends University. Before joining Equity Bank, Mr. Harbert was the Dodge City Market President for Sunflower Bank from June 1998 to August 2003. Prior experience also includes Branch Management roles with Commercial Federal Bank, Bank of America, and Emprise Bank. Mr. Harbert was an honoree of the Wichita business Journal "40 under 40" in 2007. He is currently a member of the Bank Leaders of Kansas (BLOK), sponsored by the KBA.
John Hanley
SVP, Senior Director of Marketing
John J. Hanley joined Equity Bank in 2012, and leads marketing, advertising, communication, public relations, digital and website leadership, and customer experience for the company. John is a member of the American Bankers Association advisory boards for the Certified Financial Marketing Professional Exam and the ABA Bank Marketing Annual Conference. John is a regular speaker at industry marketing events. He previously served as marketing manager for Kansas-based Sunflower Bank from 2004 through 2011, with one year as product manager for the AAFP in Leawood, Kansas. Mr. Hanley is a graduate of Simpson College in Indianola, Iowa, and attended the University of Iowa College of Law.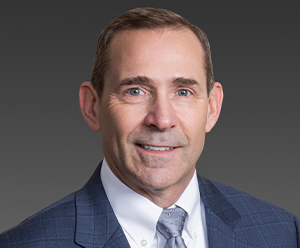 John G. Creech
Executive Vice President
Mr. John G. Creech has been Executive Vice President and Chief Credit Officer at Equity Bancshares, Inc. since joined it in December 2021. Prior to joining Equity Bank, Mr. Creech served as the Chief Credit Policy and Administration Officer for Synovus Bank, overseeing Credit Administration, Loan Policy, Risk Rating, Workout and Restructuring, and Retail Credit. During his tenure with Synovus, he oversaw due diligence efforts over acquisitions in excess of $10 billion in aggregate assets, created an entity and structure to manage the problem loan portfolio working through $6 billion in problem assets from 2008 to 2015 which contributed to their successful repayment of TARP funds, as well as oversaw the implementation of underwriting and risk rating procedures associated with the impact of the COVID-19 pandemic. Mr. Creech graduated from The Citadel in 1989. He served on the Board of Goodwill Industries of the Southern Rivers, Inc. for more than 20 years.